Adaptable interior design
Cube33® is an original concept of high-end, adaptable furniture designed with two simple geometric shapes at its core: the square and rectangle.
Fusing made-to-measure furniture
With modular furniture, Cube33® is a real interior chameleon. With its system of interchangeable modules, our furniture seamlessly blends into your space (home or office) and your style, adapting to your life and what you're looking for (rearranging your interior, new décor, moving, etc.).
More than twenty years of experience
Cube33® is the result of more than twenty years of experience in designing and manufacturing made-to-measure, high-end furniture. The idea was marketed in 2014 and has already generated a lot of positive media coverage.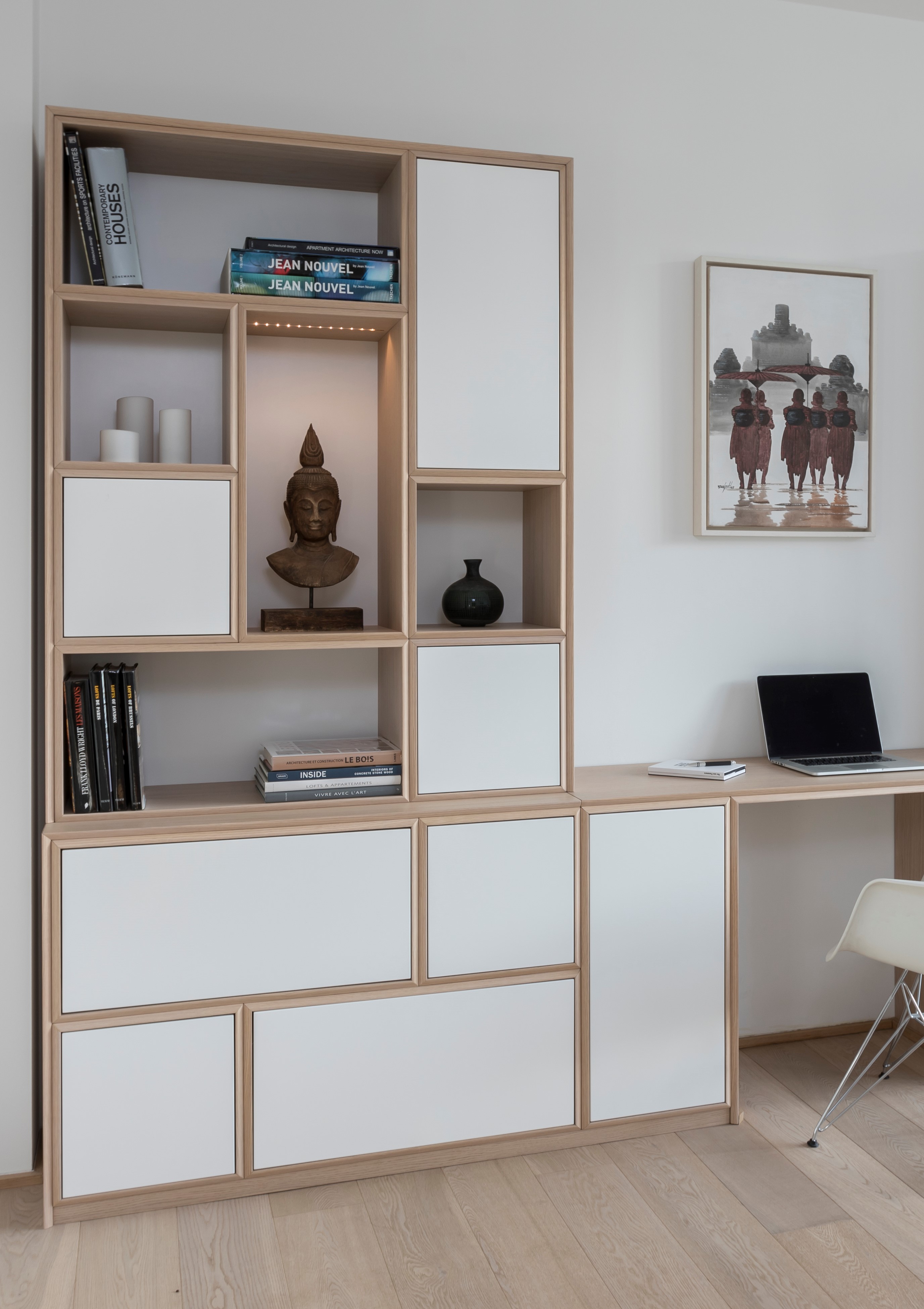 Infinite number of possible combinations
Made up of modules fitting neatly together, each of our pieces of furniture offers an infinite number of possible combinations: symmetrical, asymmetrical, linear or otherwise, fully open, with drawers and doors, etc.
A wide array of colours and wood veneers
Cube33® is also proof that furniture can be innovative, functional and elegant, all at the same time. It offers an entire range of finishes and accessories for its modules, available in a wide array of colours and wood veneers.
Furniture tailored to your interior and creativity
Cube33® is a thousand pieces of furniture rolled into one. The modules representing the structure of each piece of furniture fit together to give shape to your ideas. You essentially become your own interior designer. Using the same collection of modules, you can therefore design:
a bookcase or TV cabinet
a low or suspended piece of furniture
an illuminated wall, or furniture serving as a partition
a bench or office furniture
a bedside table or bedhead
But your creative freedom goes further.
With Cube33®, you can also choose the finishes and accessories for your furniture from among a wide range of wood veneers, drawers and doors, storage options and lighting.