The modules representing the structure of each piece of furniture
fit together to give shape to your ideas. 
Select and arrange your modules
To design your Cube33® furniture, you can choose from two module types: square modules and rectangular modules.
Once the overall size of your furniture has been decided, select and arrange the modules to fit in with your style and needs.
Product highlights
Each module gives off an eye-catching and subtle bevelled finish, a refined touch available in white and a wide choice of wood veneers.
The TV module is fitted with a removable back section and gap for feeding cables.
The déco module is ideal for showcasing larger objects.
The modules for separation wall are finished on both sides. They have no back section, so you can look right through them.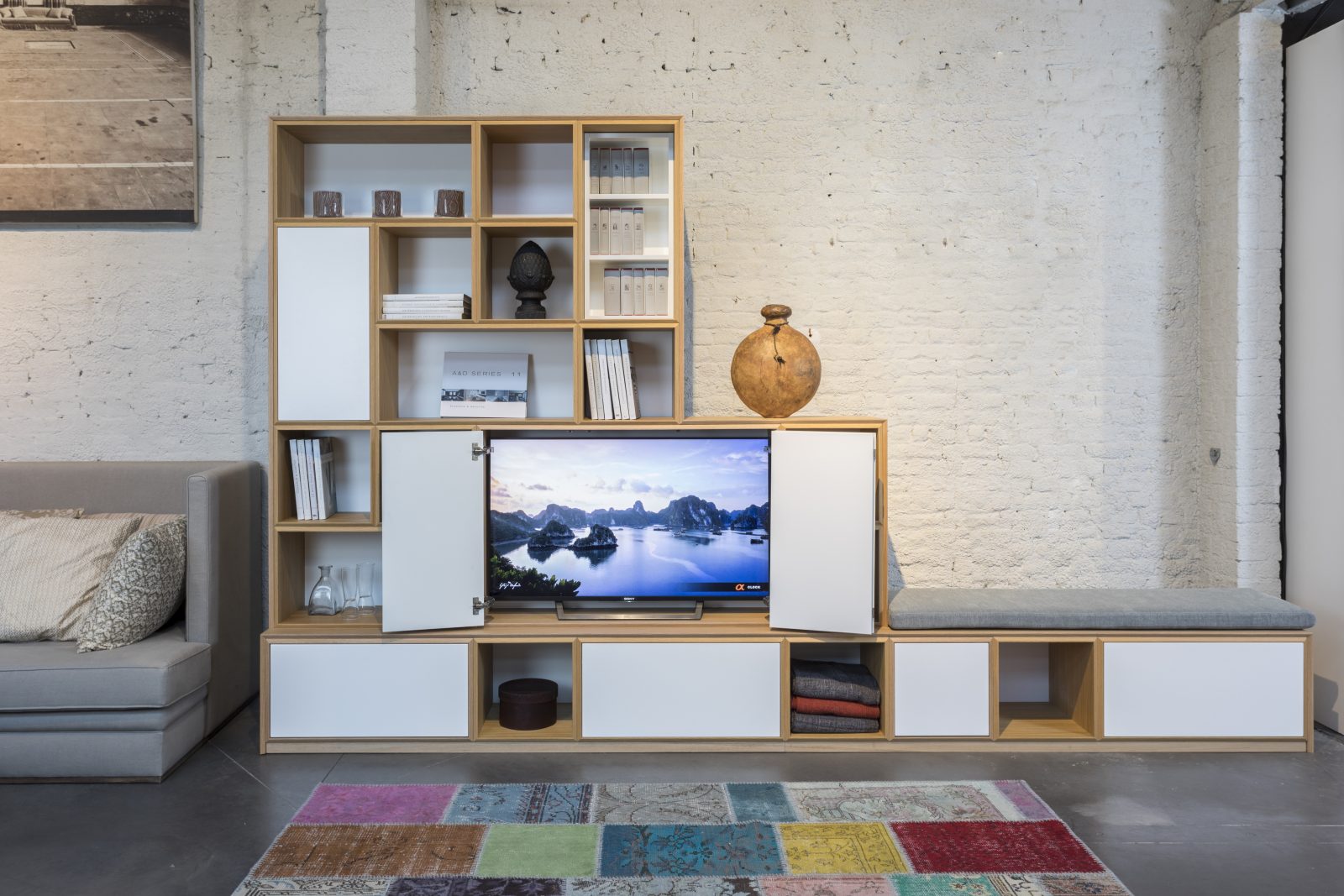 Choose the dimensions of your furniture
The fastening system of Cube33® enables you to create furniture from 44 cm to 310 cm in height, and as wide as you want it to be (in multiples of 38 cm).
Size of modules
The modules are available in three depths: 25cm, 35 cm and 45 cm. The depth of the modules for partition furniture is 40 cm.
The square modules are 38 x 38 cm (inside dimensions: 34.4 x 34.4 cm).
The rectangular modules are 76 x 38 cm (inside dimensions: 72.4 x 34.4 cm).
The inside dimensions of the TV module are 110 x 72.5 cm. Other dimensions are available on request.
The déco module is 76 x 76 cm (inside dimensions: 72.4 x 72.4 cm).
Toolbox
Download the full catalogue of different components.
Download the design grid which will guide you as you design your furniture.
Need help? Feel free to contact our team.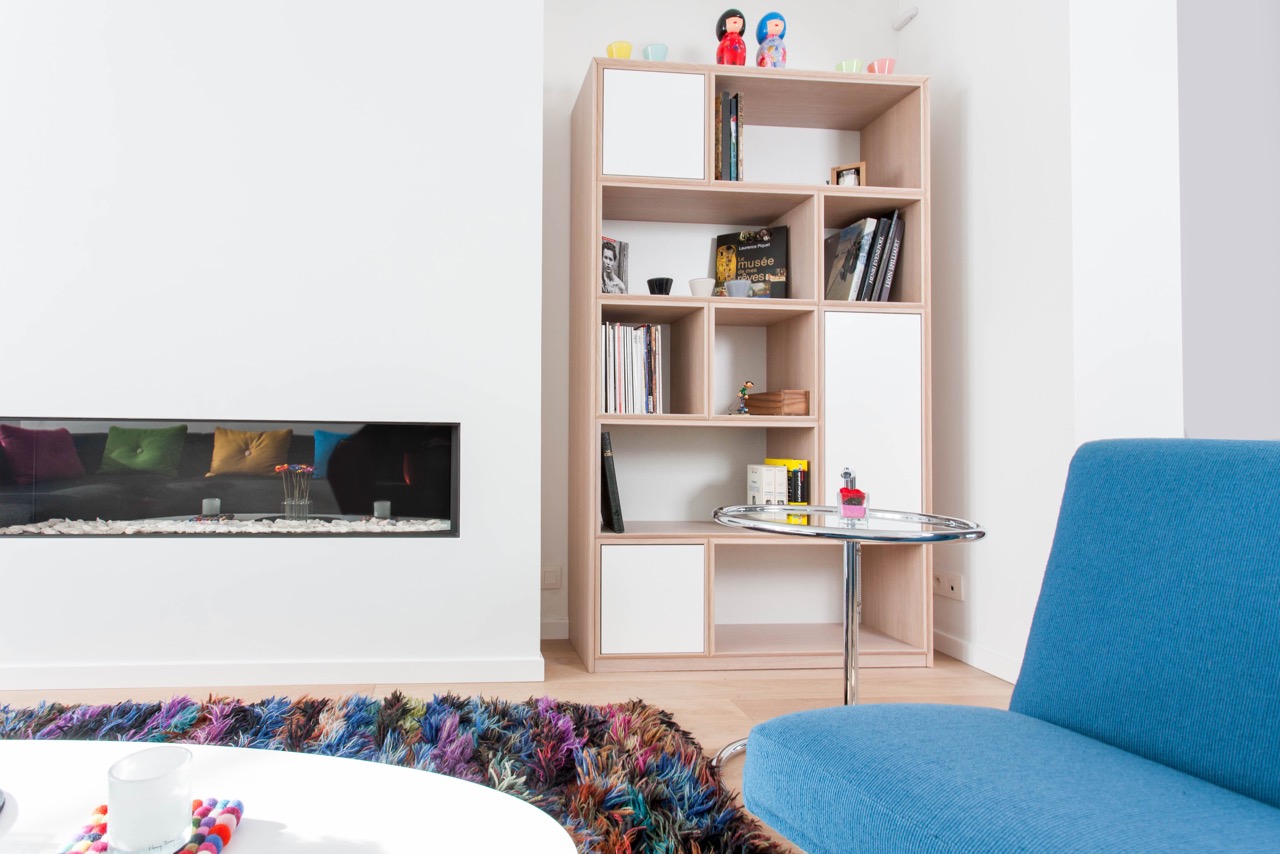 Add accessories
Cube33® gives you countless options for tailoring your furniture as much as you like and adapting each module to suit your needs in terms of storage and decoration.
Drawers and doors
You can add the following to several square or rectangle modules:
a drawer, single or double (only with the rectangle module)
a swing-out, drop-down or lift-up door
a glass door (only with the rectangle module)
Organiser
With the organiser, you can arrange your small books or CDs and DVDs on three shelves using a rectangular module positioned vertically or horizontally.
Lighting
Showcase a sculpture or ornament using LED lighting added to any of the modules.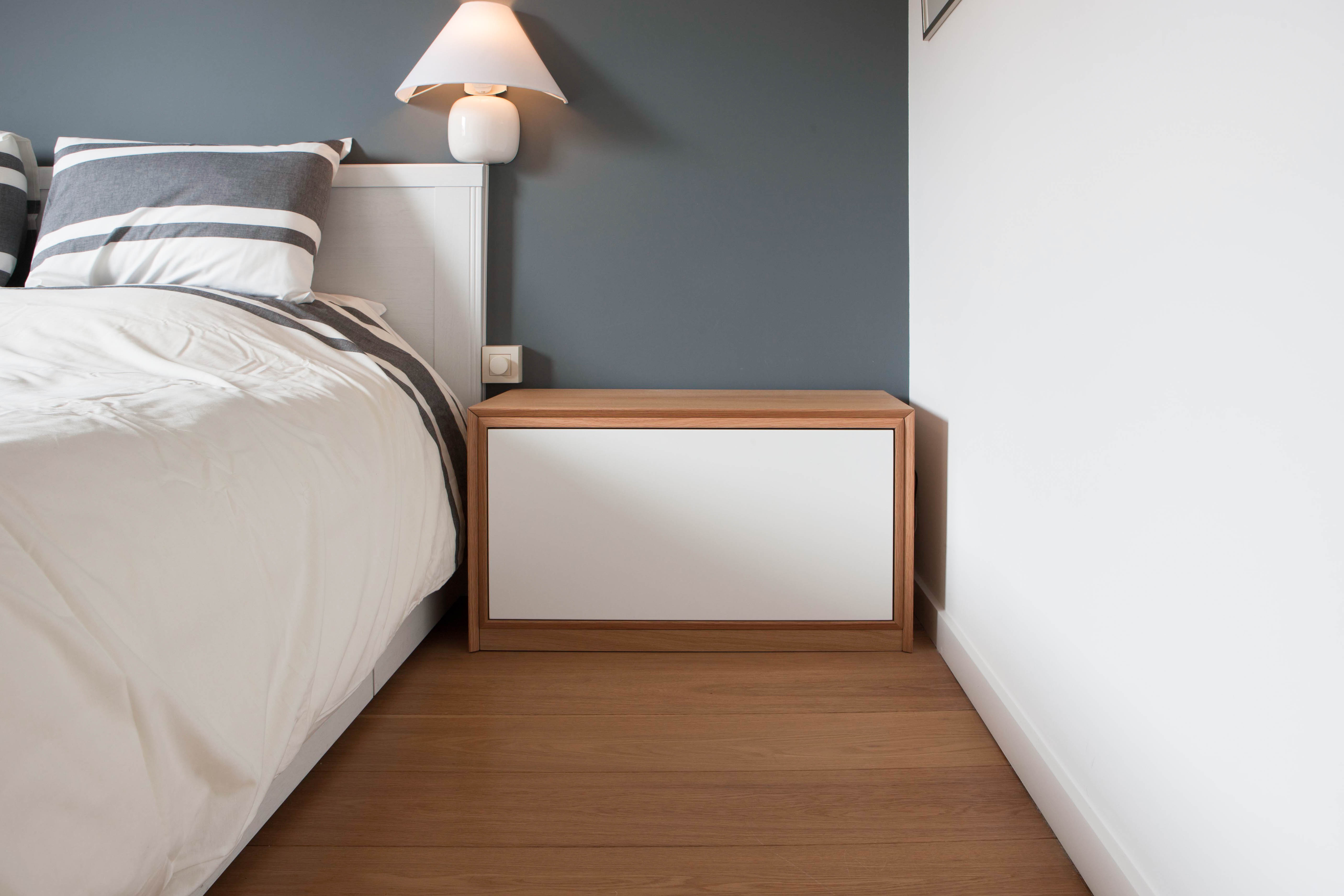 Choose your finishes
Give free rein to your creativity and choose the finishes for your Cube33® furniture.
In wood or white, plain or mixed, you get to choose the finish for each module and for the doors and drawer panels.
7 wood veneer finishes are available:
natural oak
bleached oak
black stained oak
smoked oak
Ebony oak
maple
walnut
Other finishes are available upon request.